NBF Annual Show
"Birman Spring Fling"
Proudly sponsored by: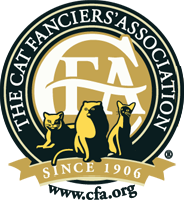 May 20-21, 2023
9:30 am to 4:30 pm (Sat)
9:30 am to 4:00 pm (Sun)
Cat Fancier's Association Cat Show being held at Morgantown Center, Morgantown, PA.
Featuring 10 rings of judging with up to 40 breeds of pedigreed cats in competition as well as domestic cats who show in our Household Pet class!

Cat Costume Contest at Noon on Saturday!

Admission

Adults: $10

Military, seniors and children 6 and over: $7

Children under 6: Free

A fun day for everyone!!!

Online Entry Form

Entries close May 15 at 11:59 pm EST or until 225 entries are reached
So you want to show your cat?
You have a beautiful Birman and want to take your cat to a cat show. You can! CFA has a division for pedigreed cats that have been spayed or neutered. To learn more about showing and how to prepare contact the breeder of your cat or one who lives near you and ask them to mentor you.
In quick overview, your cat must be healthy, up to date on vaccines, and clean. Your cat will need a bath and blow dry, nail trim, and ears cleaned.
You will need to pick a show to enter, fill out the entry form and submit it. Your mentor can assist you with what you will need to do. Most of the information you need will be on your cat's registration papers. ****Cats MUST have all claws to show in CFA shows.****
Cats are show in the following division:
Kittens (age 4-8 months)
Championship (8+ months and whole/not spayed/not neutered)
Premiership (8+ months and either spayed or neutered)
There is also a division for Household Pets or non-pedigreed, non-registered cats.
If you are only bringing one cat to the show, you will want to get the extra half-cage. That way, your cat has room, there is room for a litter box, and you will not be sharing an interior wall with a strange cat.
Shows can vary in size—from number of entries to number of "rings" judged. Most shows are 6, 8, 10 or 12 (6X6) rings. This means that your cat will be judged in 6, 8, 10, 12 rings during the time of the show. Each ring will be officiated by a different judge.
What to expect at the show
At each show, cats are kept in cages (either show or exhibitor provided) until it is "their turn" to show. In the catalog, you will find your cat's number and information. Make sure your and your cat's information is correct. Typically, exhibitors bring "cage curtains" to decorate their "benching" area. These curtains can also give the cats some privacy.
You will receive a show catalog the morning of the show when you check in. In that catalog, your cat will be assigned a number. When your number is called over the announcement system, you take your cat to the ring you were called to and put it in the cage under your assigned number. When you put your cat under it's number, be sure to check to make sure the number is the "appropriate" color. The number cards are typically double sided. One side is blue (for boys). The other side is pink (for girls). If the card is incorrect, let the Ring Clerk know. The Ring Clerk will either ask you to flip the color choice or, they, may need to do some rearranging.
Judging placement is a bit complicated. But, for Birmans, cats are placed as follows:
Best of Sex (same color)
Best of Color (both sexes)
That means if a judge has 2 seal point females, he/she decides which one is the best of the 2 cats. Then, he/she would judge the male(s). Once done judging all of one color (in this case seal), the judge would choose the Best of Color. The judge will complete judging of all of the colors of Birmans presented at the show and then choose:
Best Premier/Champion (all colors/sexes)
Second Best of Breed (all colors/sexes)
Best of Breed (all colors/sexes)
If you are lucky, you'll get a Best Premier/Champion or a Best/Second Best of Breed and be called back to a "Final". Once the judge completes judging the entire class of all cats (which could be either all Long-Hair, all Short-Hair or All Breeds), they will call their Best of the Best back for Finals. Hopefully, your hard work pays off and you get to experience the thrill of making it to a final!